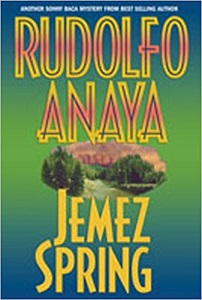 Subject Terms
Baca, Sonny (Fictitious character) Fiction.
Private investigators New Mexico Fiction.
Terrorism Prevention Fiction.
Mexican Americans Fiction.
Spiritual life Fiction.
Electronic books.
Baca, Sonny (Fictitious character)
Mexican Americans.
Private investigators.
Spiritual life.
Terrorism Prevention.
Albuquerque (N.M.) Fiction.
New Mexico.
New Mexico Albuquerque.
Fiction.
Description
Sonny Baca Series, v.4. Private detective Sonny Baca enters a deadly race against time when his investigation of the drowning death of the governor of New Mexico leads him to the realization that his old enemy Raven in back at work and has planted a bomb near the Los Alamos National Laboratories.
Story
A high-profile murder ignites a hotbed of political treachery and terrorist threats that pit the Chicano PI against his most formidable foe Sonny Baca has learned to see beneath life's observable reality and develop a new kind of sight. The Chicano PI will need his most powerful guardian spirits when he's called in to investigate the death of the governor of New Mexico. Before the murder, Sonny dreamed of a body floating in dark, swirling water. Not only was the governor drowned, but black feathers were found on his corpse. Sonny fears the killer is his old nemesis, Raven, the vicious cult leader responsible for the death of Sonny's cousin and the near death of Sonny's girlfriend, Rita. But the worst is yet to com: Someone has planted a bomb in the Valles Caldera, near Los Alamos. And it's set to go off in a few hours. Is this the work of Raven? Or someone else? With Chica, his dreaming dog, Sonny delves into the world of the Jemez Pueblo tribe, which has made the mountain its sacred site. But the evil that men do could annihilate the land and a people struggling desperately for survival. Now Sonny must stop a killer before more innocent people die--if his own hunger for revenge doesn't destroy him first.