Randy Lopez Goes Home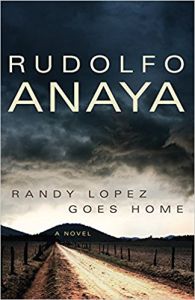 Publication Type:
Description:
Readers acquainted with Anaya's fiction will find themselves in familiar territory here. Randy Lopez, like all Anaya's protagonists, is on a spiritual quest. But both those new to and familiar with Anaya will recognize this philosophical meditation as part of a long literary tradition going back to Homer, Dante, and the Bible. Richly allusive and uniquely witty, Randy Lopez Goes Home presents man's quest for meaning in a touching, thought-provoking narrative that will resound with young adults and mature readers alike. --from Untiversity of Oaklahoma Press
Story:
When he was a young man, Randy Lopez left his village in northern New Mexico to seek his fortune. Since then, he has learned some of the secrets of success in the Anglo world—and even written a book called Life Among the Gringos. But something has been missing. Now he returns to Agua Bendita to reconnect with his past and to find the wisdom the Anglo world has not provided. In this allegorical account of Randy's final journey, master storyteller Rudolfo Anaya tackles life's big questions with a light touch.
Randy's entry into the haunted canyon that leads to his ancestral home begins on the Day of the Dead. Reuniting with his padrinos—his godparents—and hoping to meet up with his lost love, Sofia, Randy encounters a series of spirits: coyotes, cowboys, Death, and the devil. Each one engages him in a conversation about life. It is Randy's old teacher Miss Libriana who suggests his new purpose. She gives him a book, How to Build a Bridge. Only the bridge—which is both literal and figurative, like everything else in this story—can enable Randy to complete his journey. ---from Untiversity of Oaklahoma Press