Jalamanta : A Message from the Desert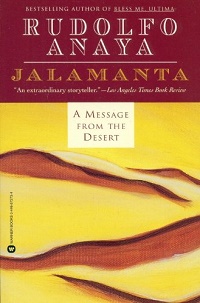 Subject Terms
Spiritual life Fiction.
Spiritual life.
Religious fiction.
Fantasy fiction.
Fiction.
Fantasy fiction
Religious fiction
Spiritual life Fiction.
Description
In this short novel, Anaya experiments with a new style of writing: a New Age parable. The story tells of an exiled prophet who returns to his village after years of wandering in the desert. As he attempts to reconnect with his wife and community, he resumes his role as a visionary preacher, encouraging people to open up to the divine and fill their lives with the light of God.
Story
Thirty years ago, Jalamanta and his people were exiled in the desert, banished from the Seventh City for challenging the monolithic dogmas of the Central Authority. Now, Jalamanta returns to his wife, Fatimah, and to his village full of new wisdom about the oneness of humankind and nature and about the nature of love. Jalamanta's teachings about the Path of the Sun challenge the sterile religious institutionalism of the Central Authority and encourage his villagers to seek their own spiritual paths. --from Library Journal