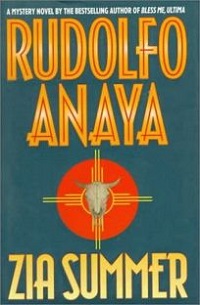 Subject Terms
Albuquerque (N.M.) Fiction.
Baca, Sonny (Fictitious character).
Detective and mystery stories.
Fiction.
Mexican Americans.
Murder Investigation.
Mystery fiction.
New Mexico Albuquerque.
New Mexico.
Private investigators.
Description
This is the first mystery novel in the Sonny Baca Series, published in 1995. Set in Albuquerque, New Mexico, the story revolves around an unsolved brutal murder that takes the protagonist detective on a journey into some of the more remote and mysterious landscapes and traditions of the American Southwest.
Story
Meet Sonny Baca. He's a small-time Albuquerque private-eye on a big mission: to find the killer of his cousin Gloria. Neither beauty nor a hot-shot politician husband had protected Gloria from a ghastly end. Her body had been drained of its blood, and around her navel a strange insignia had been etched: the ancient Zia sun symbol. Sonny suspects a link to dark Aztec rites, yet searching for the truth leads him into the city's treacherous political arena, a fierce environmental battle, and the struggle between old ways and the new. It is the Zia summer, summer of the sun, bad blood and black magic - and it will force Sonny to face his deadliest case, fighting for his own life....and the survival of the city itself. --from book's dust jacket flap.