Lujan Applauds Recognition of Rudolfo Anaya at the White House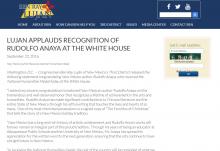 Lujan Applauds Recognition of Rudolfo Anaya at the White House
Description
Washington, D.C.  – Congressman Ben Ray Luján of New Mexico's Third District released the following statement congratulating New Mexico author Rudolfo Anaya, who received the National Humanities Medal today at the White House.  
"I extend my sincere congratulations to beloved New Mexican author Rudolfo Anaya on this tremendous and well-deserved honor that recognizes a lifetime of achievement in the arts and humanities.  Rudolfo Anaya has made significant contributions to Chicano literature and the entire State of New Mexico through his artful writing that touches the lives and hearts of so many.  One of my most cherished possessions is a signed copy of "The Farolitos of Christmas" that tells the story of a New Mexico holiday tradition.
"New Mexico has a long and rich history of artistic achievement, and Rudolfo Anya's works will forever remain an integral part of this proud tradition.  Through his years of being an educator at Albuquerque Public Schools and the University of New Mexico, Mr. Anaya has spread his appreciation for the written word to the next generation, ensuring that the arts continue to have a bright future in New Mexico.  
"In receiving the National Humanities Medal, the rest of the country will be reminded of what we in New Mexico have known for so long, that Rudolfo Anaya is one of the leading storytellers of our time.  I congratulate Mr. Anaya on this award and for his innumerable contributions to New Mexico."
# # #
For more information about our releases, please contact (202) 226-4256.
Publication Details
Washington, DC: Congressman Ben Ray Luján, September 22, 2016.