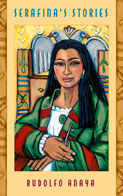 Subject Terms
Mexican American children -- Fiction.
Mexican Americans -- Fiction.
Description
A novella that features Hispanic and Native American folk stores told by the fictional character, Serafina.
Story
New Mexico's master storyteller creates a southwestern version of the Arabian Nights in this fable set in seventeenth-century Santa Fe. In January 1680 a dozen Pueblo Indians are charged with conspiring to incite a revolution against the colonial government. When the prisoners are brought before the Governor, one of them is revealed as a young woman. Educated by the friars in her pueblo's mission church, Serafina speaks beautiful Spanish and surprises the Governor with her fearlessness and intelligence. The two strike a bargain. She will entertain the Governor by telling him a story. If he likes her story, he will free one of the prisoners. Like Scheherazade, who prevented her royal husband from killing her by telling him stories, Serafina keeps the Governor so entertained with her versions of Nuevo Mexicano cuentos that he spares the lives of all her fellow prisoners. Some of the stories Serafina tells will have a familiar ring to them, for they came from Europe and were New Mexicanized by the Spanish colonists. Some have Pueblo Indian plots and characters - and it is this blending of the two cultures that is Anaya's true subject. -- from dust jacket flap.